The long Labor Day weekend is upon us, and with it comes a lengthy list of places to explore up and down the Front Range. From Music Festivals to National Park excursions, if you're looking for some exclusive Colorado Labor Day travel destinations, read on!
Jazz Aspen Snowmass Labor Day Festival

This three-day festival is just one of many reasons to head up to the beautiful high country and take in all that the city of Aspen has to offer. Founded in 1991 and entering its 29th season, Jazz Aspen Snowmass (JAS) is a not-for-profit 501(c)(3) organization. With a mission to present and preserve jazz and related forms of music through different initiatives, this world-class event offers performances that you won't want to miss! General admission tickets are sold out, but you can still get Silver VIP tickets for Friday & Saturday. Learn more here!
Great Sand Dunes National Park


Known for huge dunes like the "Towering Star", and for the seasonal Medano Creek and beach created at the base of the dunes, this destination is ideal for people of all ages! You can easily pack up the car and head out for a weekend of camping at the super affordable rate of just $20 per night (on a first come first serve basis). A must-do while visiting this local hot spot is to hike up the 750-foot star dune, the tallest dune in North America. For added fun on the way down, get creative and consider using your sled, snowboard, or skis to reach the bottom.
Copper Country Music Festival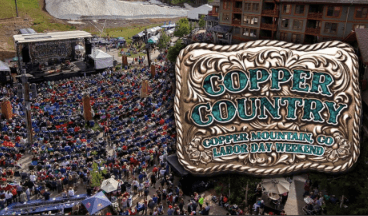 This event is a Labor Day tradition at Copper Mountain Resort in Colorado. Headlined by Kenny Rogers in celebration of the American spirit, this event features FREE live music, a fine arts exhibition, and many other fun activities for the family! For an added adventure, bring your road bike and try tackling some of the long high-elevation routes like the Winter Park Loop and the Copper Park Triangle.
Are you ready to wrap up the summer season and welcome fall with a spring in your step? Take a well-deserved getaway over the long weekend to relax and rejuvenate — Colorado has so many places to explore, that the hardest part will be picking just one!